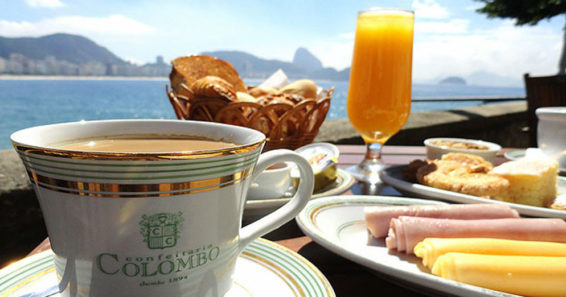 Museums with a gastronomic itinerary
Museums, galleries and cultural centers are always great exhibitions but go far beyond that. With several lunch options to complement the tour. And was thinking about it that the @AboutRio decided to make this little script for some perfect tips for your next club programs in museums 🙂
With a wonderful view to the new Praça Mauá and the Museu do Amanhã ("Museum of tomorrow"), in the coverage of the Escola do Olhar ("School to look") at the Art Museum of Rio.
Perfect environment, view, service and dishes. With typical regional Brazilian ingredients that give touch and tasty dishes.
Praça Mauá, 5, 6º piso (Museu de Arte do Rio) – Centro. Tel.: (21)  3031-2819. Tuesday to Sunday, from 12:00 to 6:00 pm.

Installed in one of the most emblematic addresses of the city, the Bistro Bar adds a handmade kitchen … contemporary culture of one of the icons of the city, the Gávea Planetarium, combining haute cuisine and good music in the right dosage.
While the PUC students circulates and children play in the playground, the ship takes off with a handmade contemporary cuisine and drinks that inspires the happy hour.
The name came from and E la Nave Va, long of Federico Fellini which takes place on board a ship where high cuisine and good music set the tone. In the kitchen of chef Daniel pine, everything is handmade: breads, sausages, pasta, ice cream … If not, leave the own garden. Even the drinks of Bruno Limah take freshly prepared inputs. On the menu, many choices of appetizer on to pass the time, such as gnocchi of plantain to cumaru with bacon and fresh shiitake croûtons and pumpkin dumpling with panko crumbs and blue cheese. For the main time, chef's suggestion is the Mariner seafood Risotto, pineapple, curry and oyster sauce. To top it off, the wine list offers a selection of prestigious sommelier Paul Nicolay.
Rua Vice-Governador Rubens Berardo, 100, Gávea. Tel.: (21) 3259-0255. Tuesday to Friday, from 7:00 pm at 12:00 am; Saturday, 7:00 pm till 1:00.
The garden of the Instituto Moreira Salles is a bakery, delicatessen and Bistro that serves breakfast all day, quiches, omelets, salads and other delicious dishes for lunch and dinner, with a service showered attention and sympathy.
Winners for two consecutive best breakfast of Rio de Janeiro by Veja magazine. In 2015 also received the same award from the Época magazine and O Globo.
Opened the unit in the IMS recently, joining the breakfast – or afternoon, or night-by the pool of the IMS. Rolls of gruyere, the best Moroccan city eggs and, of course, good drinks: all served all day long!
Rua Marquês de São Vicente, 476, Gávea (Free parking on site, subject to capacity). Tel.: (21)32847424.
It's hard to get a place on the disputed bistrô do Banco do Brasil Cultural Center ("Centro Cultural do Banco do Brasil – CCBB"), but the wait worth it. Under the dual command the front of Press Bruschetteria, Erik Nako and Cristiano Lanna, the Brazilian menu with Mediterranean accents is served inside the transom Bookstore, and get breakfast options at dinner in chapters distributed their version, option to combine a protein and a follow up, and our Verse, which brings together special recipes from chefs. But aware that is the weekend that prose sprawls, the duo set a different program: a Tuscan bean stew served only from Friday to Sunday.
White beans, pork and beef meat, fresh herbs and tomatoes, served with rice, fried cabbage, crispy and crumbly orange. And the price is interesting: the portion for two people costs R$69.
Rua Primeiro de Março, 66, Centro. Tel.: (21) 2263-8115. Wednesday to Monday from 12:00 to 8:00 pm.

Success since your inauguration in 2015, the Crepe Nouveau, French chef Olivier venture Cozan, already have captive place on that list. With a view of the balcony to Candelaria, the proposal is a charm: a menu of galettes, stylish Brittany crepes, birthplace of Cozan, crepes sweets and saladinhas meets the tastes of tomorrow night. Until current Saracen sandwich chef serves! Between the galettes, options such as the mountain, with lamb sausage, caramelized onion and cheese mines and the super complete, cooked ham, emmental, egg, prevençal sauce and mushrooms. Candy Ward, Doom: caramel Apple with cinnamon and caramel to Fleur de Sel de Guérande, a Mining version, with dulce de leche, almonds and cheese mines. In fact, the surprise was seeing him "cariocando" ward with a filling of Brigadier with Belgian chocolate 70%. museums
Rua Visconde de Itaboraí, 78, Centro. Tel.: (21) 2263 6214. Monday to Sunday from 10:00 at 8:00 pm.
The Copacabana Fort, located between Copacabana and Arpoador, was an important military stronghold, today disabled. Is one of the most beautiful postcards of the city, with an incredible view of Copacabana beach. Perfect place for morning coffee and afternoon tea in the traditional Confeitaria Colombo and Café 18 do Forte. museums
Pç. Coronel Eugênio Franco, nº 1 – Posto 6, Copacabana ; from Tuesday to Sunday and holidays, from 10 to 20 hours. Museus
Tips and/or suggestions of gastronomy in the museums in Rio de Janeiro? Share it with us! ?